Spruce up your Backyard resort with these awesome new pool designs (239)230-1266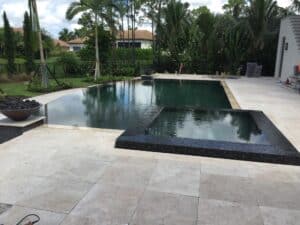 Modern swimming pools are much more than a concrete hole filled with water. In 2018 and going into 2019, they have become destinations. Designed to provide all the comforts of an indoor space, they have the stereo systems and flat screen TVs to prove it. Fresh air is back in style!
From the drama of fire bowls, fountains, and waterfalls to the tranquility of a secluded Zen-like grotto, today's pools are experiential. They are dimensional. Backyard pools have come to life like never before.
Baja shelves were just the beginning. We are seeing more built-ins and an overall trend toward integration. That integration is cohesive, as elements of the backyard setting combine into one deliberate aesthetic.
Textiles
Decks and docks are being outfitted with interesting textiles and furniture that brings the inside out; making the backyard a true extension of living space.
Besides stunning jacquards, rattan, burlap, duck cloth, hand-woven wicker that is UV and fade resistant, all kinds of high-performance fabrics renovate outdoor spaces, their color palette often drawing inspiration from nature.
Plants
Plants and flowering bushes transform the outdoors like paint transforms a room. If you employ a full-time gardener, a vast collection of topiary plants in ornate urns would certainly add a rich, lush feel to encircle your outdoor entertainment center.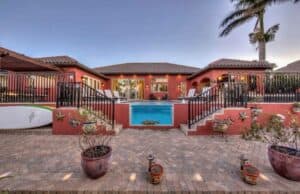 If a full-time gardener to tend to high-maintenance shrubbery is not a member of your household staff, you can still create drama for your pool setting with landscaping. Search around on platforms like Pinterest to identify the personality you want your backyard to have. Your best bet is to consult with a specialist at a local nursery to review the type of care your selections require.
If you are not a person who derives satisfaction from gardening, there are certain choices you should shy away from! There are plenty of plants that do well with little to no attention. You can even go for a very down-to-earth, no maintenance design with rocks and succulents.
Finishes
We like this trend of the darker finishes on pool interiors. With an edgier feel, the tone lends itself to a more oceanic or lagoon-like setting. These finishes impart serenity to the pool setting.
Additionally, much like a tiled backsplash in a kitchen adds depth and personality, there is an endless array of tile types and designs to trim the pool's edge and atop the waterline. Elegant mosaics and translucent glass tile in every conceivable shape and color will paint a unique picture of your style.
Features
THIS is where pool design gets interesting. The trend of resort-style living is snowballing into the pools of backyards across America. The same concepts that fill brochures of sun-drenched getaways on exotic islands can now be constructed for your pool.
We love this incorporation of commercial features as it has reinvented how we look at backyard pools.
As a custom design, sun shelves (wide ledges) can be installed at either end of the pool or even around the entire circumference. Shallow end or deep, you can work with your pool contractor to create submerged pool decks sporting features like umbrellas to give you welcome shade from your sunbathing. These can be crafted into any shape. You can even have a center table fashioned for some aqua dining!
Swim-up bars have continued in popularity. Lower-level outdoor kitchens are now being installed poolside with uprights that are part countertop, part pool ledge. With concrete seats built-in around the bar, you can transport your guests to Tahiti for the afternoon!
Single-depth pools are also a pool trend that has taken off. While traditional pools feature a deep end, single-depth pools (as the name implies) feature a continuous depth. Typically built in a rectangular shape, this pool design is ideal for water sports and lap swimming. These are also sleek looking, so this design pairs well with more modern architecture. From a safety perspective, children and elderly people could also benefit from the depth consistency.
Reflection
While pool water is the idyllic surface to mirror every feature and facet of your backyard design, today's pools need not look like an afterthought. You can create the pool that suits the architectural styling of your home.
This is part of the integration movement where your pool installation looks organic; in the way that it was always there… thoughtfully created to fit the yard and complement your home.
Be it the bungalow style of a craftsman home or a glass-covered monolith, your backyard pool can genuinely reflect the home you love.
Pool Technology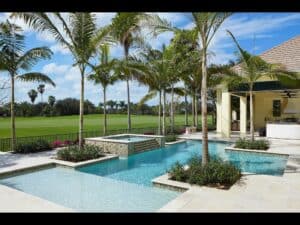 Let's face it. With a Bluetooth device and an iPhone, you can rule the world. Or at least rock-covered speakers, lighting design, pH smart monitoring systems, spa on and spa off gadgets! Then all you have to do is tell Alexa to cue the fountain.
Pool automation systems and voice activated controls seamlessly work to keep your pool running optimally.
There are also UV systems that use a powerful ultraviolet light. Traveling through the pool's pump system, they destroy algae, viruses, bacteria, and other organic matter you don't want to infiltrate your water.