Accurate Outdoor Solutions & More
Learn About The Accurate Outdoor Solutions & More Family of Companies
We are not just a Southwest Florida swimming pool restoration company. We offer so much more!
Accurate Outdoor Solutions and More Enterprises is the brainchild of our CEO Gil Anuez. Gil founded Accurate Pavers in 2004 and Accurate Pavers grew to become the largest paver installation company in all of Southwest Florida. He realized that the average customer was dealing with four separate companies just to build a custom pool and spa. Accurate Outdoor Solutions and More was created to offer a better service to customers looking to create a entire backyard resort. With just one company handling all the components required in a job, the outcome produces a much better result. From pricing efficiencies, communications and supplier scheduling, we can offer a better price, reduce redundancies and deliver a better job much faster than the competition.
Driveway Pavers
Paver Pool Decks and Patios
Paver Walkways
Paver Columns and Entry Features
Pools and Spa Restoration
Water Features
Decorative Ponds and waterfalls
Stem Walls
Retaining Walls
Paver and Stone Repair
Outdoor Kitchens
Outdoor Brick Ovens
Firepits
Gas Pool and Patio Fixtures
Paver Cleaning and Sealing
Commercial Paver and Retaining Walls
HOA (Approved at most home owners associations)
Tour Our Companies
From Driveway, Pool and Patio Pavers to Pressure Washing and Sealing Services
Accurate Pavers is Southwest Florida's largest paver installation companies. We service Naples, Bonita Springs, Estero, Fort Myers and Cape Coral Florida.
From Commercial pool restoration, to residential pool resurfacing
Getting a pool resurfaced by Accurate Pools means you are benefiting from decades of pool and paver experts.
Stem walls to elevated and teared gardens
Accurate Retaining Walls have been creating retaining walls for both residential and commercial accounts for over 20 years.
We build outdoor chefs kitchens to brick ovens and firepits
Your personal outdoor resort will not be complete without a commercial grade chef's kitchen at poolside.
From Revitalizing your pavers to cleaning the exterior of your home
Our commercial pressure cleaning services can bring most any surface back to new again. From Residential pressure cleaning to commercial pressure washing services.
Our Own Paver Sealants Formulated for the Florida sun
After years of dealing with inferior commercial paver sealants that just could not deal with the harsh rainy season and then the relentless sun in the summer, we created our own formula that is 100 times better than anything on the market.
There Has Not Been a Better Time to Make it all happen!
Because we offer so much, the more you add the better price you get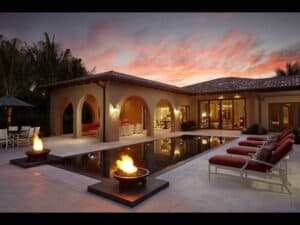 If you are looking to restore a pool or add an outdoor kitchen, this is the time to get a price. How about gas torches around your pool? Lets see what we can do to make your vision a reality. We would like nothing more than to offer you the backyard resort you have always been dreaming about.