Naples, Bonita Springs, Fort Myers Pool Restoration (239)230-1266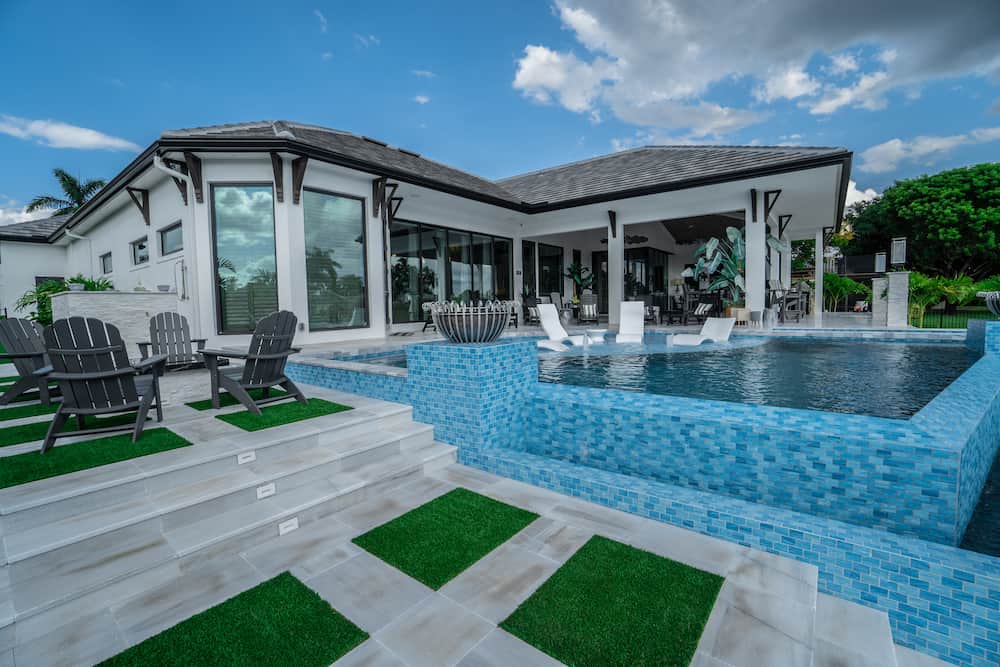 Swimming Pool Resurfacing and Pool Restoration:
Why restore an existing swimming pool?
The Price
In most cases you could save at least half on the cost by restoring an existing pool rather than starting from scratch. All permitting will be easy as this pool exists, the form and foundation is done, and mostly, the demolishing and removal of an existing pool can be costly.
While Accurate Pools can quote on a new pool, our specialty is in the resurfacing and pool restoration of an existing pool. We can do so much with the shape, style and function of an existing pool structure. Before you demolish an existing pool, let Accurate Pools have a chance to come over and offer a better and cheaper solution to your backyard resort. Chances are, when we are done, you will not even believe your eyes. Accurate Pools offers professional swimming pool and spa restorations in Naples, Fort Myers, Bonita Springs and Cape Coral Florida.
Learn About The Accurate and More Family of Companies Here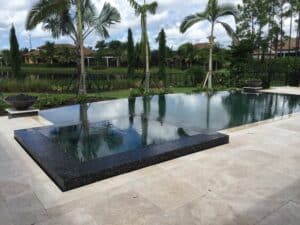 The Process of Restoring a Swimming Pool:
Drain the Pool
The first step of the swimming pool resurfacing process is emptying and discarding the contaminated pool water. We will send an employee to prepare the site and drain your swimming pool and/or spa. The water will be treated and discarded based on local and national EPA requirements.
We will run a preliminary inspection on the electrical, lighting and equipment. Many times the pool equipment has been not operational and damaged from sitting.
Swimming Pool Restoration Prep
The second step of the pool resurfacing process involves our expert sandblast, multi-coat, and strip crews for the preparation process. These crews thoroughly prepare your pool surface by removing old damaged surface material and preparing it to receive the new surface material of your choice.
This stage is the loudest and dustiest stage of the project. We will cover and protect your backyard area as much as possible.
Note to Customer: Whenever possible, we urge the removal of any patio furniture, pots and plants surrounding the pool area to another location. Our crews will take special care to ensure that your backyard is restored to the same clean environment as when they began the process.
New Tile and Masonry on the Pool Resurfacing
Now that your swimming pool restoration has been prepped, we are ready for our highly skilled tile and masonry craftsman to install your selected pool tile, coping, and other decorative features such as ledger stone. Accurate Pools has been doing this process for decades in Southwest Florida. We are one of Naples, Bonita Springs and Fort Myers largest paver and stone installers. Our competitors will be hard pressed to compete with the price we get on the masonry and coping.
Note to Customer: Your swimming pool restoration is now starting to take shape. All details regarding your swimming pool and outdoor living space should be completed and documented. All grout color or tile must be selected, and should you have any special design ideas or requests, these decisions must be finalized at this point.
Plumbing and Seal – The Resurfacing is Water Tight
Accurate Pools will seal the plumbing to ensure that your pool shell is water tight and ready for your selected pool surface finish. We will also wash your pool shell at this time.
Swimming Pool Finish Material Installation
This process involves the installation of the pool surface finish material you selected. Now your remodeled swimming pool really starts to take shape. This can be a 1-2 day process, depending on your material selection.
Cleanup and Pool Fill
We have been at the customer's location for a few weeks now. Yes, it is close to building a new pool from scratch but you have saved about half of the money compared to demolishing and building the pool's framework. At this point Accurate Pools just needs to clean, fill and test. Once the specified material has been installed and acid washed (if needed), we will complete our general cleanup, and start to fill your pool. We request all homeowners to keep an eye on the water level as it fills, and turn the water off once the water level hits the middle of your waterline tile.
The Pool restoration is almost done.
At this point, you will be so happy you chose to resurface and restore your swimming pool rather than start from scratch. Your swimming pool will look amazing!
Water Treatment and Surface Curing
The pool resurfacing process, referred to as the Initial Water Treatment is one of the most important steps to be completed for the extended appearance and lifespan of your restored swimming pool surface.
Once your pool is full of water again, several procedures need to be performed to allow the surface to cure as evenly as possible.
Service After The Pool Restoration with Accurate Pressure Cleaning and Accurate Pools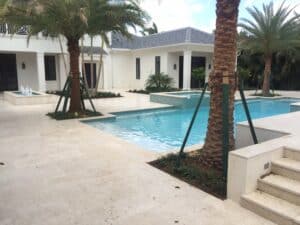 Accurate family of companies are hear to keep your restored pool looking new for decades after the restoration. Accurate Pools offers service contracts and maintenance programs to keep your swimming pool working great and looking great. Our technicians can service all the mechanical equipment and offer monthly cleaning and chemical requirements. Leave the maintenance of your pool up to a professional. What about the coping and paver pool deck and patios. We have a division of our company that will come out to your home and clean and seal all coping, pavers or stone. Accurate Pressure Cleaning uses proprietary sealers developed by Accurate Pavers. This sealer is concentrated to stand up to the massive rain and sun we get during the summer. Contact Accurate Pressure Cleaning to ensure your backyard resort will keep looking amazing.
Accurate Pools offers pool renovations and remodeling services in Naples, Bonita Springs, Fort Myers and Cape Coral Florida.
Contact Us to Remodel Your Dream Pool